I have innumerable "favorite books", and as a result, I am notorious for beginning read alouds with this statement: "I am SO excited to read this to you today!  It's one of my favorites!" Truly though, Miss Alaineus: A Vocabulary Disaster is a gem, and it ranks in my top 20-ish books for good reason.  It's witty.  It's well-written.  It's the perfect book to get your kiddos interested in the vocabulary they may otherwise gloss over in a text.  It's one of my go-to books for zeroing in on word choice and expanding vocabularies…right up there with The Boy Who Loved Words and Donovan's Word Jar.  In a nutshell, it's pretty fabulous! Essentially and ironically, the main character Sage mistakenly thinks that miscellaneous is Miss Alaineus (and is basically a mascot on the side of a spaghetti box).  She embarrasses herself at school, and then she decides to turn lemons into lemonade by creating a very punny vocabulary parade costume: Miss Alaineus: Queen of All Miscellaneous Things.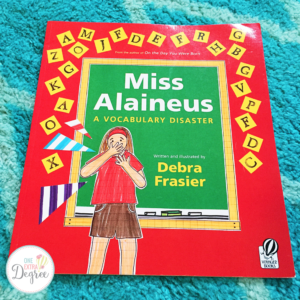 I have always enjoyed using this book as a jumping off point, and it's so much fun to launch a Vocabulary Parade after reading.  I've done full-on costumes in the past with my students, and it was amazing, but this year, I opted for something much simpler.   I bought cheap bulletin board borders at Dollar Tree and attached large index cards to the front to display words.  My students recorded their words on the index cards and illustrated them, as you can see below.  I mean, I'd imagine you'd have to be pretty dexterous to handle nunchucks safely, right?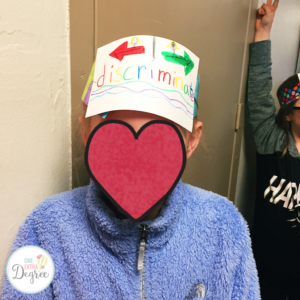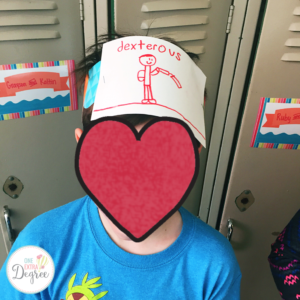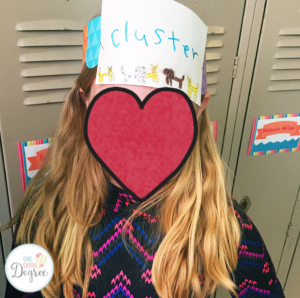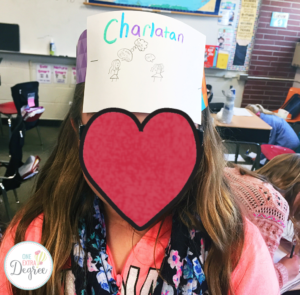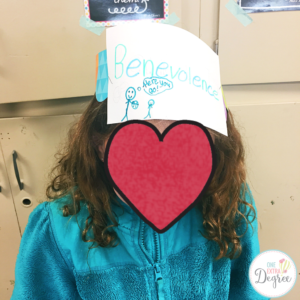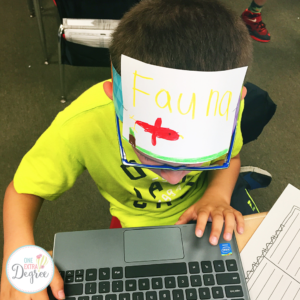 Once my students selected their words and created their headbands, I gave them my Teach Me and I Remember pack.  Typically, I use this pack at the end of a longer unit or for a lesson on something like point of view, but I decided to use it to have my students teach each other new words.  This was really engaging and fun.  I love giving my students choice to select products that interest them and tap into their strengths. There were several skits, movies, and Google Slides presentations. A few kids opted for songs or posters.  All of them were able to capture the essence of their vocabulary words and teach it masterfully.  Aside from the choice board, my students spent a few minutes writing a brief plan, and they finished by reflecting on how they thought their lessons went and what they would do differently the next time.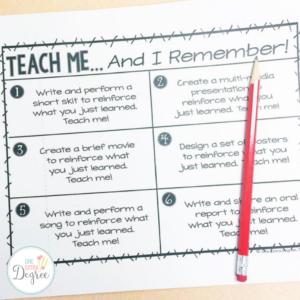 I think formal presentations are important and have their place.  We just wrapped up our Writer's Coffeehouse a few weeks ago, and we are heading into Passion Project presentations at the end of this week.  I LOVE when we can carve out the time to take turns presenting to the whole class.  That said, when you have 29 and 31 kiddos in your classes, that's really not feasible on a regular basis, so sometimes I love to have my kids circulate around the room and present to small groups.  It's a little more boisterous, but they still have an authentic audience, and they are always on task because they are excited to share with friends.   This is the approach we took for our Vocabulary Parade.  It allowed us to read the book, select the words, create headbands, create lessons, present the lessons, and reflect upon the lessons in one day, and then we were on to the next thing.   Definitely a plus!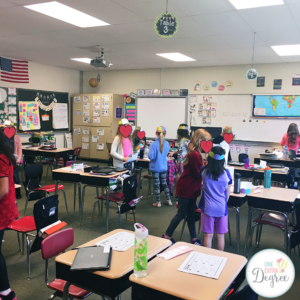 If you are like me and you've been wanting to fit a Vocabulary Parade in to your day SOMEWHERE, but you are struggling to find a place, consider keeping it simple!  Make some headbands, pass the baton to your kids, and let them teach each other!  It's low-prep but high-yield, and I promise, your kids will LOVE it!