I have a soft spot in my heart for memoirs and personal narratives.  I love being transported to another place and time, and I love the feeling that I'm getting to know the author on a personal level.  I love beginning the year with memoirs and personal narratives because they are so accessible for kids.  They are the perfect texts to show students that they can write meaningful stories too…that they are authors in their own rite!  So empowering!
Up North at the Cabin is one of my favorite stories.  Its a wonderful story about a girl who goes "up north" to a cabin with her grandparents every summer, and it's simple yet poignant.  It is such a great catalyst for discussion!  Up North at the Cabin: A One Week Wonder is part of a series of week-long units with complete lesson plans  ("One Week Wonders") I plan on sharing with all of you over time!  Here's a glimpse of some of the activities!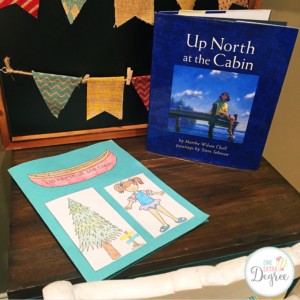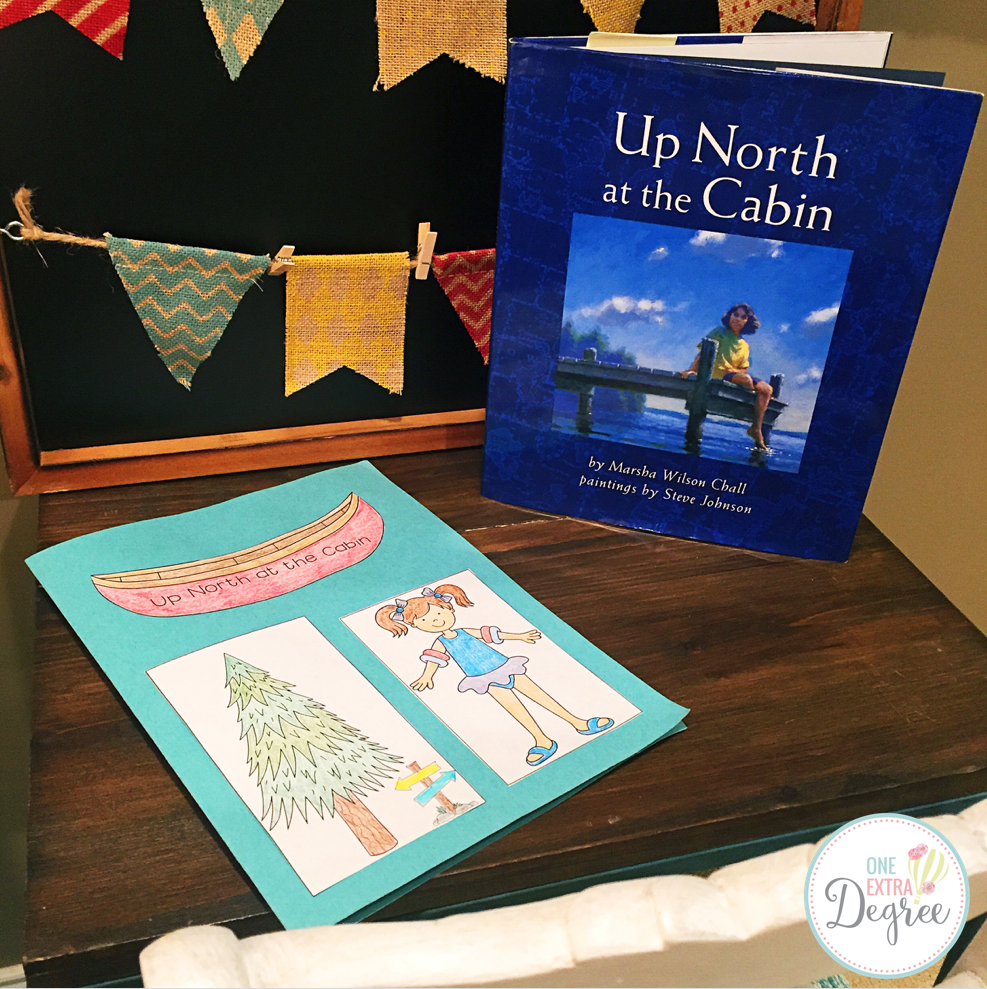 Ever One Week Wonder includes an interactive lap book to record important parts of the text.  This unit has interactive notebook templates for characters, setting, plot, theme, connections, a summary, and connections.  It's a great way to take a closer look at the text without resorting to a typical graphic organizer or worksheet!  Kids love creating these lap books!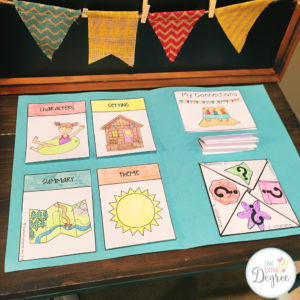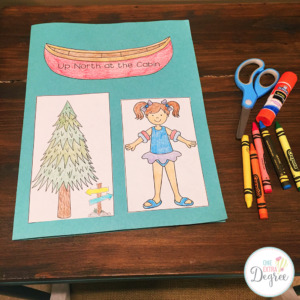 Another pretty standard activity in my rotation is Read the Room.  This unit features snippets from the text that demonstrate the use of figurative language.  Students are asked to identify each figurative device as they meander around the room reading the cards.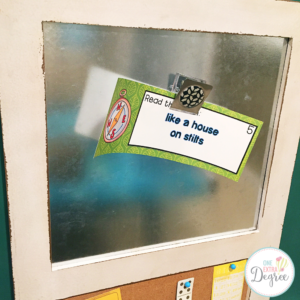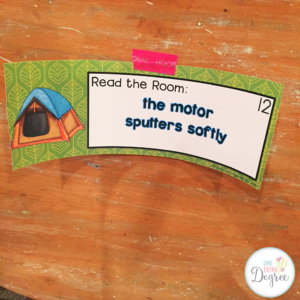 Each unit includes a genre poster with clip art that specifically corresponds with the featured text.  This is great for displaying on your board in isolation or as part of your Focus Wall.
The following anchor charts can be reproduced (probably with more proficient artwork) and used as a lead-in for an interactive whiteboard lesson with clickers or popsicle sticks.  Students will actively participate in each question whether using clickers, Plickers, whiteboards, or popsicle sticks, and they will identify whether each sentence uses a coordinating or subordinating conjunction.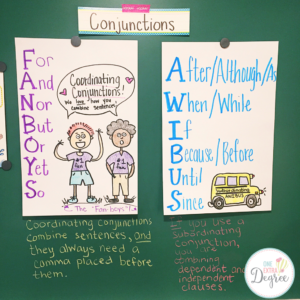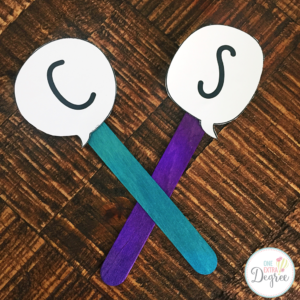 Vocabulary is a big part of each unit.  I always include two versions of vocabulary cards for display.  One set features the word and the definition, and one set is blank with a separate definition card to make it more interactive, as desired. Each day of the unit, students are engaged in various activities to practice their vocabulary words. For example, one day, students are asked to create vocabulary "tents".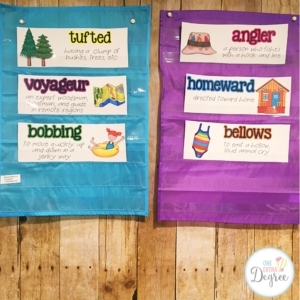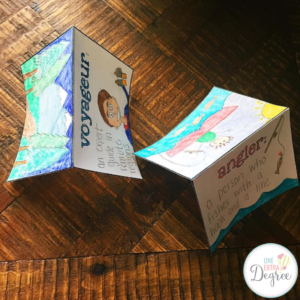 This game harvests words from the text, and it requires students to identify their part of speech and use them in a sentence correctly.  If they can do it, they keep the card.  If they cannot, it goes back into the pile.  If they pull a splash card, all of their cards must be returned to the pile.  I threw the cards into my son's baby pool to up the engagement factor.  You can see what the cards look like in the first photo, but ultimately, you would want your students to place them inside of a container (or on the floor) face-down so it's more of a random drawing.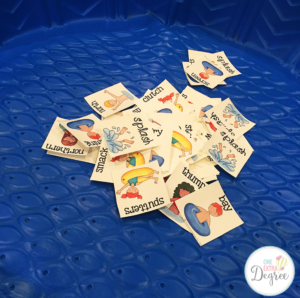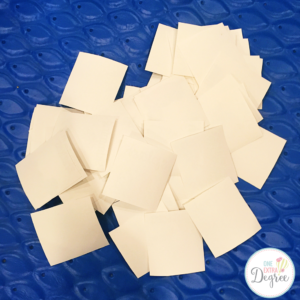 The following cards feature prepositions and are part of a SCOOT game.  Students rotate around the room as they stand behind desks.  They should write a sentence using each proposition and incorporate the subject of each illustration into each sentence.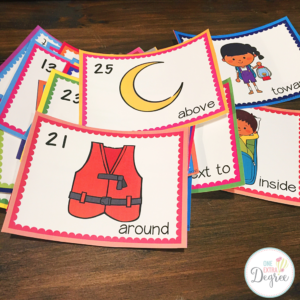 I always try to incorporate a little novelty into each One Week Wonder.  This time, I chose to pull in Lincoln Logs because they require students to build structures using diagrams.  This is great practice with technical texts, and it is FUN!  You could simply have kids read the diagram, build a cabin, and write out the steps in words to create a procedural text.  So simple and meaningful!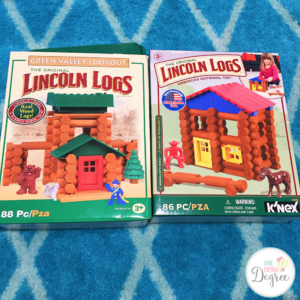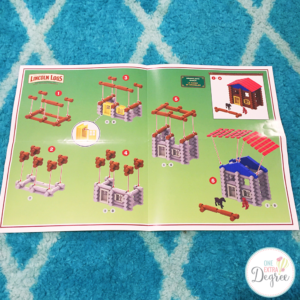 I always try to incorporate a few different writing opportunities into each unit, so here's an example of how I try to hit a few different standards. Aside from the Lincoln Logs procedural text prompt, I have also included narrative and persuasive text centers to the rotation.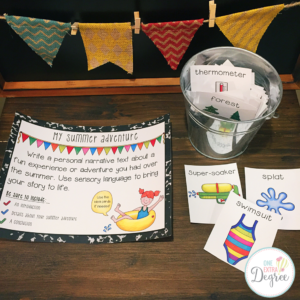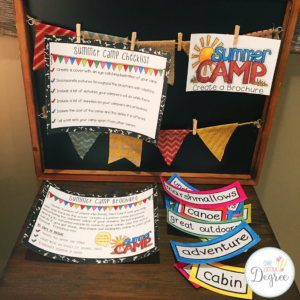 Every unit features a questioning center that cites people, places, and things from the text as answers.  Students are asked to formulate questions that arrive at those answers in the text.  It's a great way to have students practice asking and answering questions.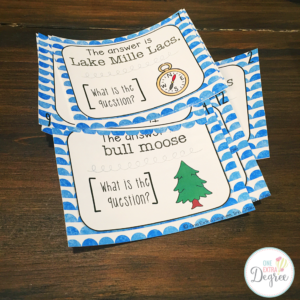 This center looks as shades of meaning in a pretty tangible way.  I created cards that can be placed on top of each sheet, but you could also laminate and have students use Expos.  Another fun option would incorporate actual paint sample strips as recording sheets.  Students could, for example, record the answers for LOOK on a yellow strip.  No matter how you approach this center, it's sure to be impactful and engaging!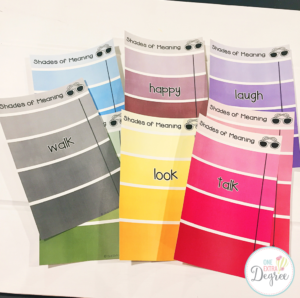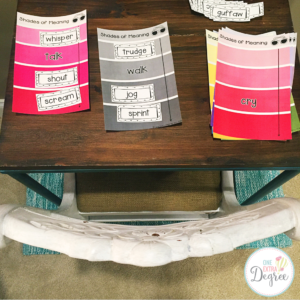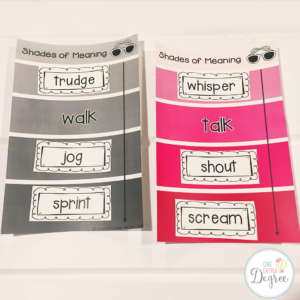 This blog post doesn't include every single activity, but it includes many of my favorites.  Here's a more comprehensive list of the contents:
What's Included:
Lesson Plans
Cloze Vocabulary Introduction
Vocabulary Book with Frayer Models
Vocabulary Cards for Focus Wall/Pocket Chart
"Up North at the Cabin" Discussion Questions Mini-Book
That's What It's All About Central Idea/Key Details Organizer
Author's Craft Read the Room Activity
My Summer Adventure Writing Prompt with Idea Cards
"Up North at the Cabin" Lap Book
Vocabulary Cards (small- to create a concept map)
Adapting Mental Images Graphic Organizer
Prepositions SCOOT
Memoirs Poster
Summer Camp Brochure Opinion-Based Text Prompt with Idea Cards
Summer Camp Checklist and Brochure Template
Venn Diagram: "Up North at the Cabin" and "Saturdays and Teacakes"
Conjunctions Anchor Chart Examples
Subordinating/Coordination Conjunction Projector Activity
Speech Bubbles with S or C for Conjunction Participation
Author's Craft Slides/Cards with recording sheet
Sensory Language Graphic Organizer
Vocabulary Tent Examples and Templates
Vocabulary Comicbook Direction Sheet and Cuttable Word Bubbles
Burning Question/Reflection Formative Assessment Flapbook
Visualizing Interactive Notebook Template
Recounting Stories Interactive Notebook Template
Dear Journal: Interactive Writing Prompt
Float Your Boat: STEM Activity
Float Your Boat: Written Conversation/Reflection
Vocabulary Quiz
Comprehension Quiz (with ONE original text and optional extended response)
Shades of Meaning Center with keys
Lincoln Logs Diagram and Write Activity
Splash! Center (Common and Proper nouns)
What is the Question? Center
Mentor Corner: Summer Activities (Internet Inquiry/Multimedia Presentation)
Mentor Corner asks "How is this activity enjoyed by children? (If there are rules, include them.)", "How can kids stay safe during this activity?", "Do you need special gear to enjoy this activity? If so, what do you need?", and "Have you ever participated in this activity, and if so, what was your opinion? If not, would you like to try it? Explain why or why not." Activities included: playing with water guns, hiking, camping, playing with a wagon, playing hopscotch, Slip 'n Sliding, tubing, fishing, swimming, scuba-diving, swinging, diving, blowing bubbles, flying a kite, making sidewalk art, playing in the sprinkler, selling lemonade, canoeing, making s'mores, bird-watching, singing campfire songs, and toasting marshmallows.
So, there you have it!  I am personally LOVING this approach to teaching literature. Like I said, I have a lot of "favorite books", but this book has my heart and tops the list. It is so well-written, and the illustrations are wonderful. It's also a wonderful book to really begin a discussion about author's craft, and it can serve as a great example for personal narratives in conjunction with your writing units. This comprehensive week-long unit contains everything you need to launch an engaging and thought-provoking study of  Up North at the Cabin by Marsha Wilson Chall. SO FUN!  Stay tuned for more One Week Wonders!