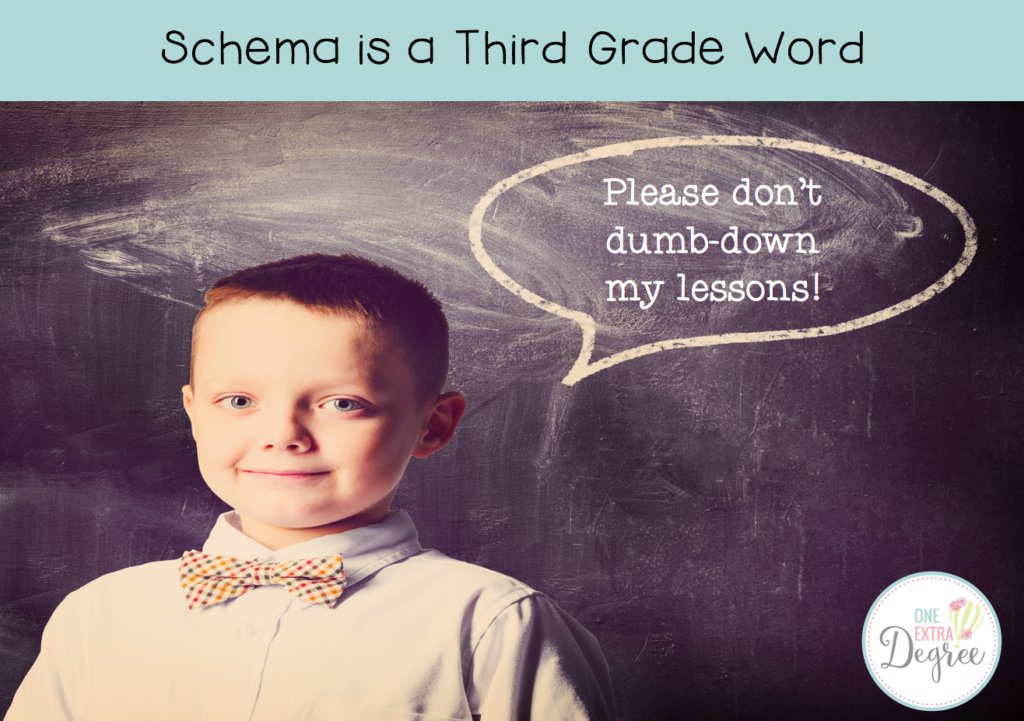 Listen, there are some things in the world of education that most of us just simply didn't learn as kids…like lattice multiplication and words like schema.  Schema is a fancy-schmancy word for prior knowledge, and I believe it has a place in the classroom.  In fact, after reading "Reading with Meaning" by Debbie Miller many moons ago, it has been a word that has found a home in my own classroom year after year after year.  Why?  Well, mostly, I fervently believe in using precise language.
      I have quite the origin story to explain why I feel so passionate about this. About thirteen years ago, I had to take a music course for my undergrad work, and we had to come up with a lesson to teach our peers. I taught mine, and I could not even begin to tell you what it was about.  Not a clue.  That said, do you know what I DO remember?  I remember the only thing I was marked down for was my spoken vocabulary.  It wasn't because I was unclear.  It wasn't because I was swearing like a sailor.  It wasn't because I was scrambling concepts or terminology.  I lost points because my professor felt my vocabulary was too "complex" for young children.  I was floored.  (Obviously, I have never gotten over this.)  I countered that I believed students should have the opportunity to hear and use precise language. I still believe this with all of my heart.  Exposure is half of the battle, and when used in context for an authentic purpose?!  Why wouldn't we ALL be purposeful about this?  Doing anything else is cheating our students.
      I don't necessarily want to step on anyone's toes, but I'm standing up on top of my soap box with a megaphone, and I am unapologetically going to call it like I see it.  I think kids know more and are capable of more than we give them credit for, particularly with vocabulary.  I know the standards are partially to blame, and I am really not trying to make anyone feel like a big jerk because you teach the words your curriculum uses,  but I cannot wrap my mind around calling sentences "asking" sentences and "telling" sentences, for example.  Maybe it's the intermediate teacher in me, but I say, if they are going to eventually use the words interrogative and declarative, let's call it like it is instead of constantly reteaching new terminology, like this:
First Grade:  Johnny, today we are going to be talking about asking and telling sentences.
Second Grade:  Okay, Johnny.  We are going to be talking about sentences today, and I want you to be able to sort between a statement, a command, a question, and an exclamation. Let's review!
Third Grade:  Johnny!  We are going to have so much fun today!  We're going to play a game of four corners to review the four types of sentences: interrogative, imperative, exclamatory, and declarative!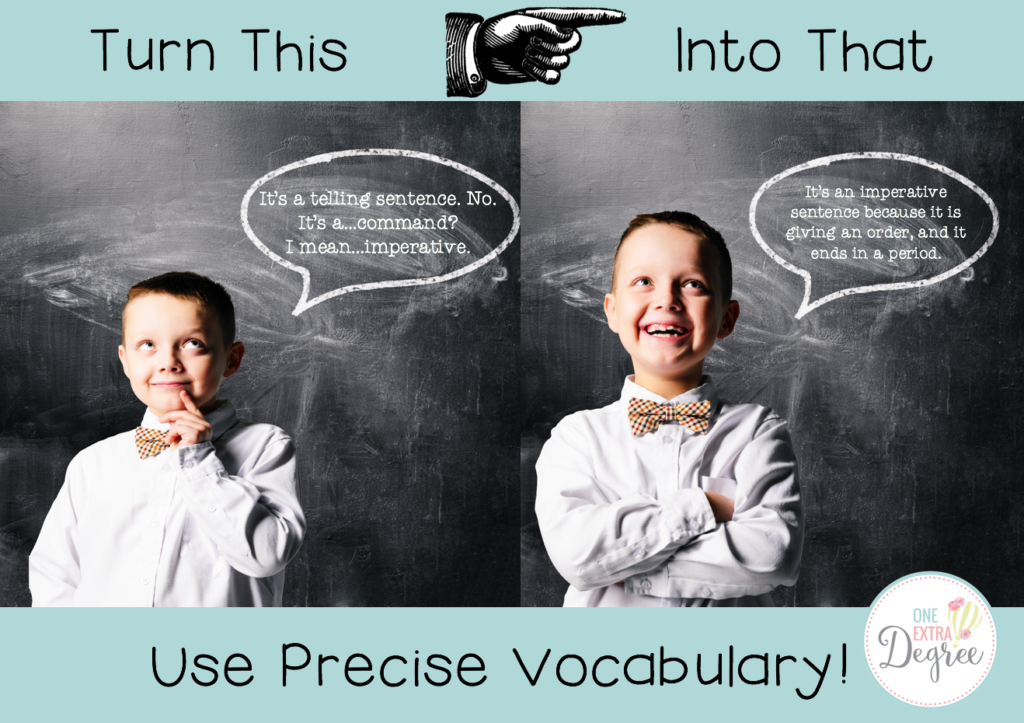 I mean, really.  Does anyone else find that completely absurd, or is it just me?  Why do we do this?! It is so illogical to me.  I am constantly like, "Friends, another name for a statement is declarative.  They are synonyms!"  and answering questions like, "What is an interrogative sentence again?!" with things like, "Well, which ones do you already know!?  Let's start with that and narrow them down!  (Pause.)  Great!  You have one more left… what do you think it is?  (Pause) Yes!  You are so smart!  Interrogative means a question!" or "No, sweetheart, imperative is a command.  Can you remember what the other word for question is?  (Pause)  Look at your choices again."  This can be so defeating for kids, especially struggling students.  Just when they start to be proficient with one set of terms, we throw another set of terms at them.  If we were all using common language from the beginning, I could be focusing more on the content and less on the shifting terminology.  I spend so much time explaining that an imperative sentence is a command when we could just call it imperative from day one.  But I digress.
This post is called "Schema is a Third Grade Word", and as aforementioned, my mind was blown years ago after reading "Reading with Meaning" because that's when I realized that kids… even first graders… can use and comprehend words like schema, metacognition, and synthesis… and they apply it to enrich their understanding of texts they are reading!  I mean, if Debbie Miller can do it with her littles,  then surely we can too, right?!  Here's the thing… she is SO right.  We collectively need to be using language that is scholarly and precise.  We need to use common language with our students.
Here's a snippet.  Debbie says, "Be precise when you share your thinking.  Say what you need to say as clearly and concisely as you can, then move on. Use real language and standard terminology when talking with children; nothing says 'inferring' quite like 'inferring'. Once you've decided on how you'll define a strategy and how you'll format your responses to the reading, keep your language the same. Remember, you're the model. What you say and how you say it becomes what they say and how they say it!"
I'm going to take this one step further and say that, ideally, vertical planning should be happening in schools.  We SHOULD be having conversations with the grade levels above and below us to not only ensure gap closing, but also to facilitate lessons that are cohesive and use common, standard terms with the kiddos we share.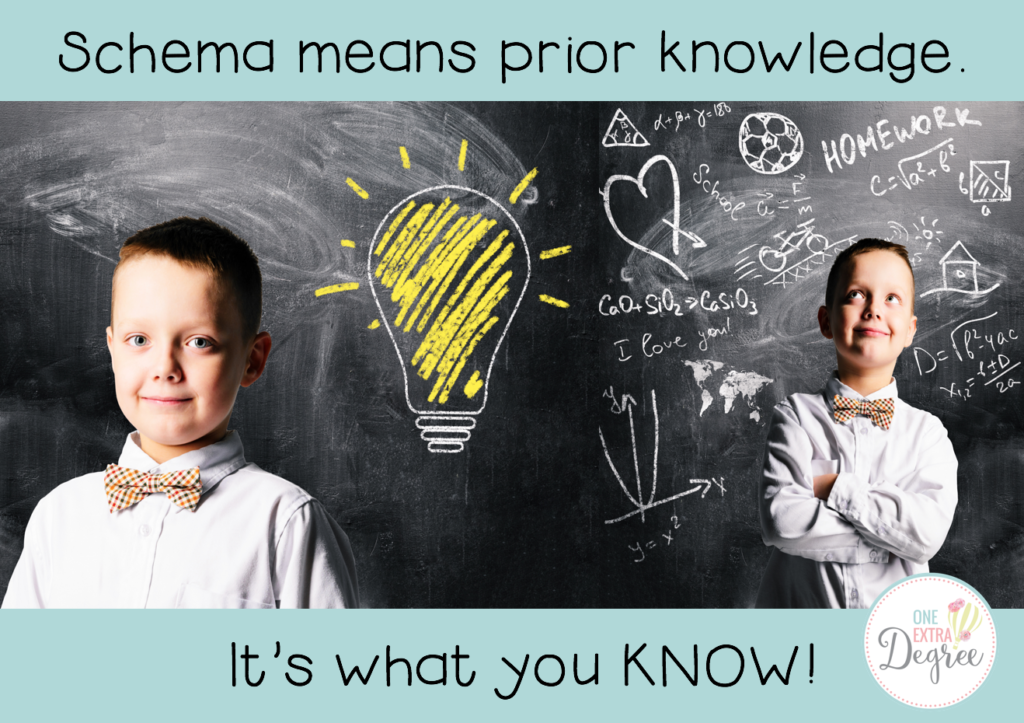 So, that's where schema really comes in.  Schema is our prior knowledge…it's what we know.  While I absolutely believe that we should be teaching our kids synonyms and shades of meaning, I do not believe that this should apply to academic vocabulary.  If kids can memorize the names of forty dinosuars, then certainly they can handle discussing academic words like conjunction, imperative, and schema with your support.  I have been continually amazed by what my students were capable of when I didn't automatically assume that something was out of reach and gave them the opportunity to stretch and thrive.  Listen to your inner Debbie Miller: Remember, you're the model. What you say and how you say it becomes what they say and how they say it!