The running joke in my classroom year after year seems to be that every book is my favorite.  Every time I pull out a read aloud, I hear myself saying, "This is one of my favorites", and every year, at least one kid cracks a joke about my never-ending list of favorites.  That said, this is the book that tops my list: Saturdays and Teacakes.  I have yet to find another children's book that makes me oooo and ahhh the way I do with this one.  The illustrations are beautiful and nostalgic.  The words are poetic and poignant. The plot tugs at my heart-strings.  It is seriously THE BEST.  I was so excited to create a unit to delve even deeper into the story with my students.
Saturdays and Teacakes: A One Week Wonder is part of a series of week-long units with complete lesson plans  ("One Week Wonders") I plan on sharing with all of you over time!  Here's a glimpse into my classroom to see how it all panned out!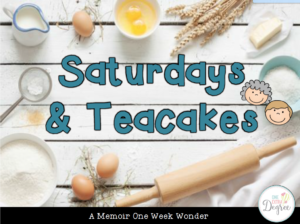 We created an interactive lap book to record important parts of the text.  It has interactive notebook templates for characters, setting, plot, theme, connections, a summary, and connections.  It's a great way to take a closer look at the text without resorting to a typical graphic organizer or worksheet!  Kids love creating these lap books!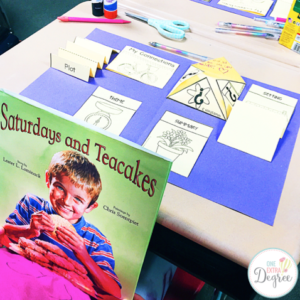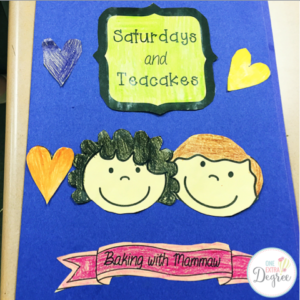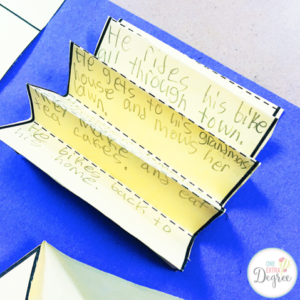 In my classroom, group discussions and pair shares are employed daily. The kids learn so much from one another, and they have to consider different points of view as they chat.  So, although I want them to have a naturally flowing conversation with classmates, I also want to steer them in the direction I want them to go.  So, I create booklets of discussion questions that are must-dos.  Then I leave four pages for student-generated questions.  It's a great way to ensure that everyone is prepared, involved, and focused during group and partner discussions.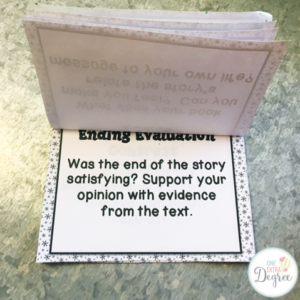 Every One Week Wonder includes vocabulary resources, and this unit is no different.  As you can see, the kiddos completed vocabulary books containing Frayer models for each term.  I display the words and definitions all week long, and I am always working in fun vocabulary activities to expose them multiple times over the course of each One Week Wonder.  Headbanz are such a fun way to review words.  You can use regular elastic headbands or bulletin board borders as well.  This is a fun way to review, define, or create concept maps with other students.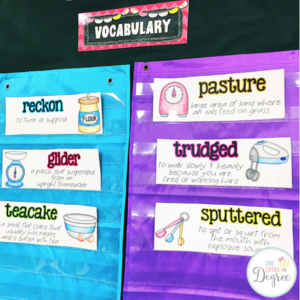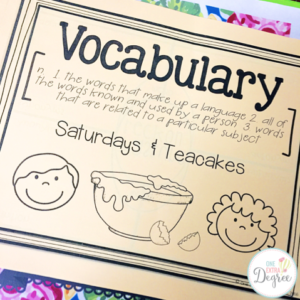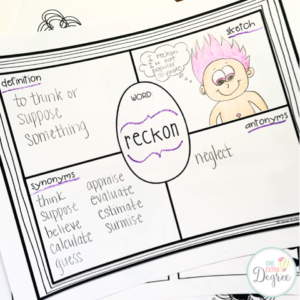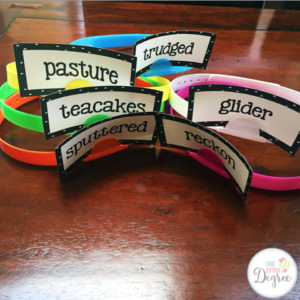 Read the Room activities are a staple in my classroom because they are SO versatile.  We do some variation of this activity every week.  This week the kids identified which kinds of figurative language was represented on each card and recorded their answers on recording sheets.  There are so many great examples of showing not telling that you can easily incorporate into your writing mini-lessons as well, especially if you are working on personal narratives or fictional narratives during the same time.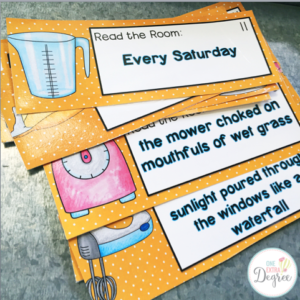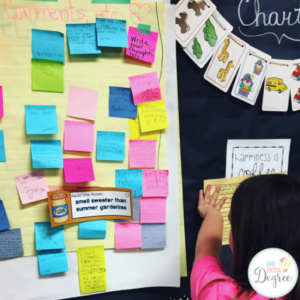 We furthered our exploration of figurative language with an Onomatopoeia Workshop.  This was ran as a center in my classroom, and it was a novel way to review sound words using kitchen tools.  I brought in several items from home and pulled out some pieces I use at school for various lessons.  The kids interacted with various items and recorded the sounds they made.  They simply folded paper into flap books, drew pictures of the three items they chose, and recorded the sounds each tool made on the inside.  It was an engaging way to review onomatopoeia.  I wanted my students to think about how they would articulate the sounds items made because, as writers, we have to make those choices when we are trying to be precise.  It was an excellent way to prepare for narrative writing later that day.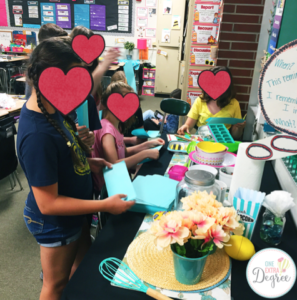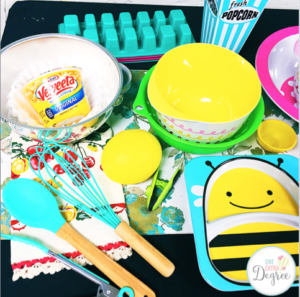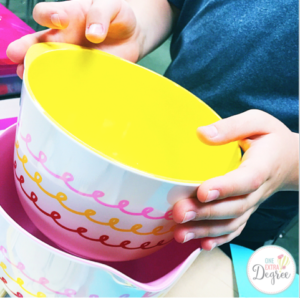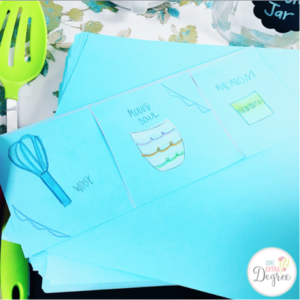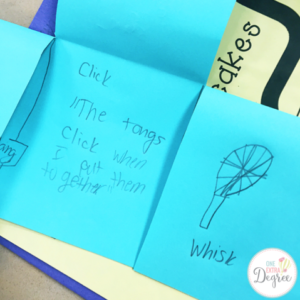 I bought paper plates from Dollar Tree to create a game of "Pass the Plate".  I attached labels and wrote onomatopoeia on each one.  This was kind of the flip-side of the Onomatopoeia Workshop activity.  They had to use each word correctly in a sentence, alluding to someone, an animal, or an object that would create that sound.  If they were correct, they kept the plate.  If they weren't sure, someone else would verify the answer with an iPad.  If they were wrong, the plate went back into the pile.  The person with the most plates by the end of the game won.  It was so simple, so inexpensive, and really fun.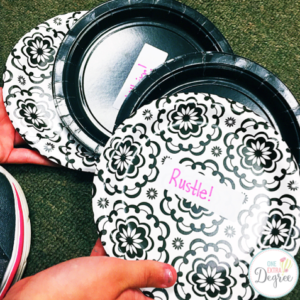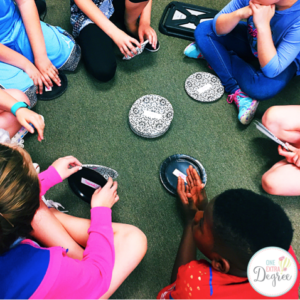 Additionally, the kiddos cycled through various centers (and played a game of Scoot) to review figurative language, roots, asking and answering questions, and common and proper nouns.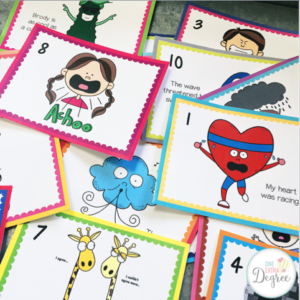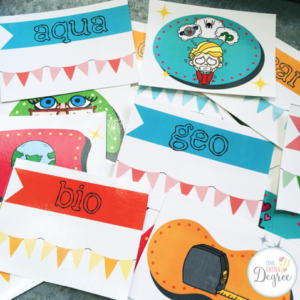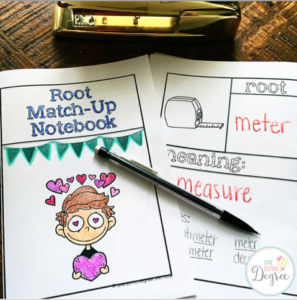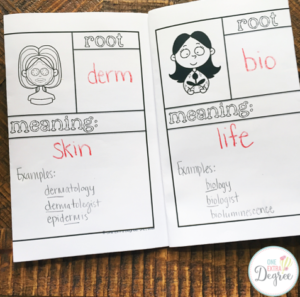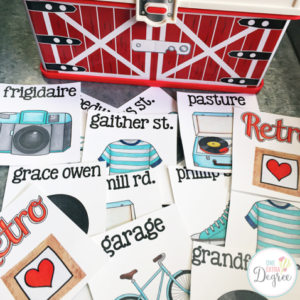 This blog post doesn't include every single activity, but it includes many of my favorites.  Here's a more comprehensive list of the contents:
What's Included:
Lesson Plans
Cloze Vocabulary Introduction
Vocabulary Book with Frayer Models
Vocabulary Cards for Focus Wall/Pocket Chart
"Saturdays and Teacakes" Discussion Questions Mini-Book
That's What It's All About Central Idea/Key Details Organizer
Author's Craft: Read the Room Activity
Onomatopoeia Workshop Activity
Onomatopoeia Writing Extension Cards
Saturdays and Teacakes Lap Book
Traits, Motivations, and Feelings Organizer
Characterizing Characters Graphic Organizer
Vocabulary Cards (small)
Figurative Language SCOOT
Memoirs Poster
Comparing Characters Venn
Fact and Opinion SMARTboard/Sign Language Activity
Visual Craft Slides/Cards with recording sheet
Sensory Language Graphic Organizer
List, Group, Label Vocabulary Activity
Think, Pair, Share Formative Assessment Flapbook
Vocabulary Art
Making Connections Interactive Notebook Template
Sequencing Interactive Notebook Template
Ted's April Fools' Day Flop: Narrative Prompt
Adapting Mental Images Graphic Organizer
Theme Thesis: Interactive Writing Prompt
Vocabulary Quiz
Comprehension Quiz (with ONE original text and optional extended response)
Roots Match-Up Center with Roots Booklet (bio, carn, amor, geo, chron, graph, derm, aqua, spec, phobia, meter, cracy)
Retro! Center (Common and Proper nouns)
Pass the Plate Center (Onomatopoeia)
What is the Question? Center
Mentor Corner: Vegetables (Internet Inquiry/Multimedia Presentation)
Mentor Corner asks "Where is your vegetable grown? How can you care for this vegetable if you want to start a garden? How can you protect vegetables from pests? What is a recipe that features your vegetable? (Record the ingredients and steps.) Vegetables included: asparagus, eggplant, iceberg lettuce, carrots, cauliflower, chili pepper, broccoli, cucumber, green beans, lima beans, leek, Romaine lettuce, zucchini, mushroom, onion, parsnip, peas, potato, pumpkin, radish, red pepper, squash, corn, and tomato. (The tomato is something the characters eat together after they work outside in the yard and garden.)
So, there you have it!  I am personally LOVING this approach to teaching literature. Like I said, I have a lot of "favorite books", but this book has my heart and tops the list. It is so well-written, and the illustrations are wonderful. It's also a wonderful book to really begin a discussion about author's craft, and it can serve as a great example for personal narratives in conjunction with your writing units. This comprehensive week-long unit contains everything you need to launch an engaging and thought-provoking study of "Saturdays and Teacakes" by Lester Laminack. SO FUN!  Stay tuned for more One Week Wonders!
Save
Save