Snap cubes are the perfect manipulative for segmenting and blending words because you can physically take them apart and put them back together.  They make the process concrete and interactive!  These CVC mats utilize color-coding to assist students as they build words. The sound boxes are made up of red and blue snap cubes to help students begin to distinguish between consonants and vowels.  Additionally, small green, yellow, and red dots guide students as they progress from left to right. Students should place a blue snap cube onto the card for the initial sound /c/, they should place a red snap cube down for the medial sound /a/, and they should place a second blue cube onto the mat for the final sound /t/.  Next, they should snap the cubes together to blend the sounds and say the word "cat".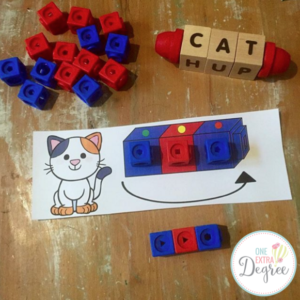 Whenever your students are ready for the introduction of graphemes, you can easily replace the snap cubes with Didax Educational Resources CVC Unifix Letter Cubes. The same process is followed, but this allows students to use alphabetic knowledge to construct and deconstruct words. It's purposeful, but it's delightfully simple and effective!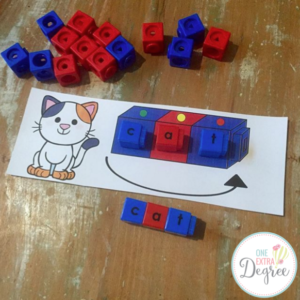 Do you want to use this resource to improve your students' phonological awareness skills?  Click the image below, or click here!
Save
Save
Save
Save