Students use sound boxes, or Elkonin boxes, to segment individual phonemes (sounds) in words by placing tokens into separate boxes. For the sake of directionality, these sound boxes utilize the colors of a stoplight to organize the sound boxes. Essentially, for the word "bat" a student would say /b/ /a/ /t/ as he/she placed a token onto the mat for each sound.  The initial sound /b/ would be represented by a green token, the medial sound /a/ is represented by a yellow token, and the final sound /t/ is represented by a red token.  The arrow beneath the sound boxes is a visual reminder to blend the sounds from left to right using a sweeping motion with one's finger.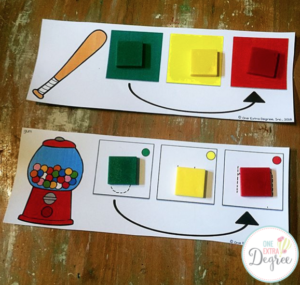 There are two versions of these sound boxes: one set just has color-coded boxes, and the other has white boxes with small little color-coded circles and traceable letters.  They both can be utilized with colored tokens (like these math tiles), or you can use magnetic letters if your students are ready for the introduction of graphemes.  Your students can either trace the letters with a dry-erase marker, or they can use magnetic letters as tokens for phoneme segmentation!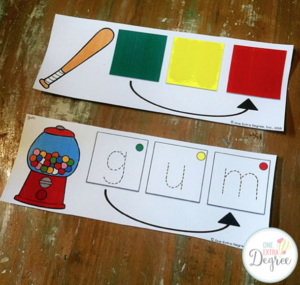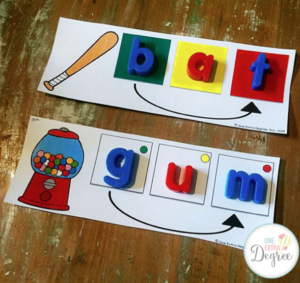 The Junior Learning CVC Tri-Blocks Tub Word Building Set by Junior Learning
is a fabulous tool to use for phoneme segmentation and blending because it's a collection of triangular connecting letter tiles.  The consonants are blue, and the vowels are red.  The initial sound is dark blue, whereas the final sound is a lighter blue. It is another tangible, concrete way to deconstruct and blend sounds to build words.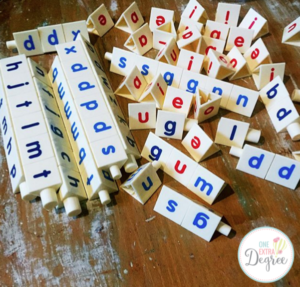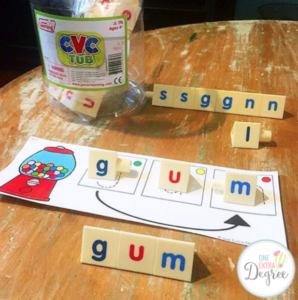 Do you want to use this interactive resource with your own students?!  You can check it out by clicking the image below or by clicking here!
Save
Save
Save
Save
Save