I love finding new ways to engage and stretch my students!  Personally, I revel in the times when I can incorporate toys and games because they are fun, and learning should be too.
So, when I stumbled upon Fashion Plates online, I immediately saw it's applicability to writing and character development. If you teach writing and your kids struggle with creating realistic and interesting characters, you need to head to Amazon immediately.  This will be a difference-maker.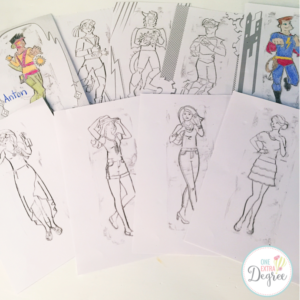 Action Plates Drawing Playset
lets you mix and match several plates to create various different superheroes.  I love how it appeals to both genders!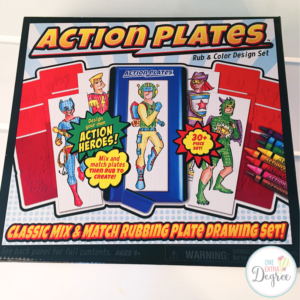 I also love that the plates include examples of onomatopoeia.  I think they would be fun to display around the superheroes if you used large enough paper.  You could even have them create a comic book by combining the superheroes and the words.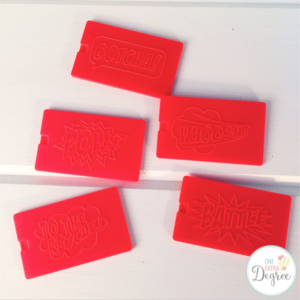 The process is simple when you create a character.  First, you lift the window and drop three plates into a compartment.  Next, you place a piece of paper over the templates and close the window.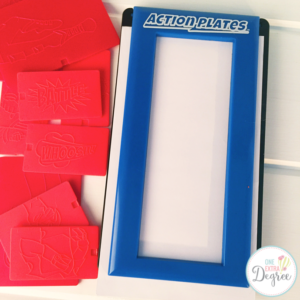 Then, you rub the small black crayon sideways over the plate, gently pushing down as you rub.  You should start to see the outline of the character emerge at this point.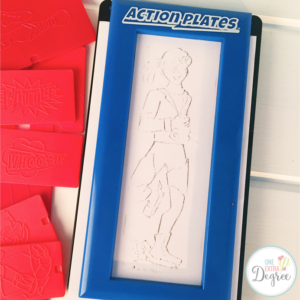 Keep rubbing until your picture looks complete.  After that, you can lift the window and remove your picture.  Then, you can color the etching to begin to bring the character to life.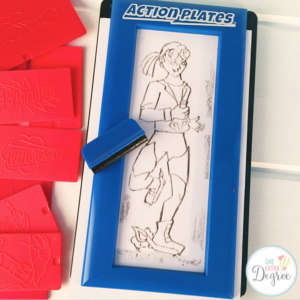 Here are a few more examples on the sample papers that come with the Action Plates.  As you can see, there are really fun design components, and as you mix and match, some of them are really outlandish and funny!   You can always use regular paper, of course.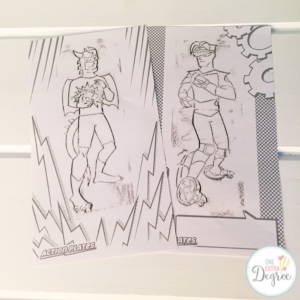 The next photo shows a few characters once they were colored in.  The crayons can look a little distorted because of the fact that the outline is drawn in crayon, but as long as you don't get hung up on the precision of each eyeball or feature, I promise this will be AMAZING!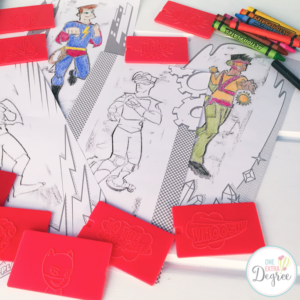 In addition to the Action Plates, I also have the Fashion Plates Deluxe Kit
.  The fashion set works the same way.  It come with plates, a drawing tablet, paper, colored pencils,rubbing crayons, and a carrying case.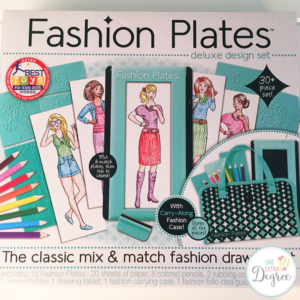 This photo shows how you stack the plates into the compartment in the drawing tablet.  You can see the outfit through the window before the paper is placed over it. This set creates outfits using combinations of two or three plates.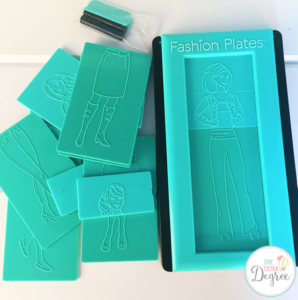 As you can see, there are lots of opportunities to mix and match to create characters that are a little more feminine or a little more casual, depending on the personality of the character being created.  Additionally, they do sell formal or sporty plates for additional combinations.  You can find them here: Fashion Plates Sports Expansion Pack
and Fashion Plates Glamour Expansion Pack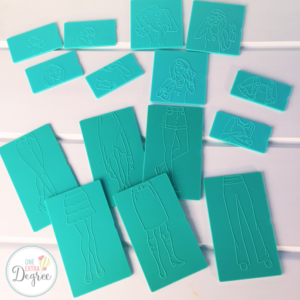 The other nice thing about both sets is that they come with instructions, so you don't have to make a direction sheet to use with your students.  That work is already done for you.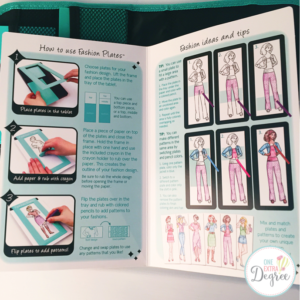 You just rub the crayon over the paper and over the plates, just like I showed with the Action Plates, and viola!  You create characters for stories, just like that!  They're ready to color and describe!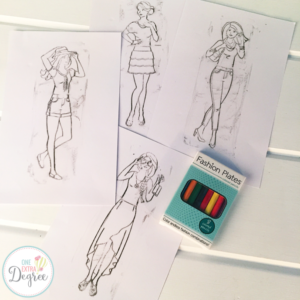 I started playing around with the concept a bit, and although it's nothing fancy, I am certain you'll get the gist of how amazing this could be with your students:
You can have students list what characters are like on the inside and outside.
Your students can list traits, motivations, feelings, and their appearance.
Students can create multiple characters that interact in the same story.
They can also think through what the problem in the story might be as it pertains to the character.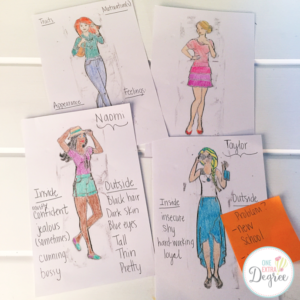 Whatever the standard requires of your students at your grade level, you can do it with these plates.  You can use them with graphic organizers, or you can have them sketch around the images like I've done in this post.  Then, once they have sketched out and fleshed out their characters, they can begin to draft their stories.
I LOVE how the Action Plates and Fashion Plates work as a story starter, in a sense, but I love that it's not just fluff.  It's purposeful.  This approach helps students visualize their characters.  It acts as a scaffold for students who are intimidated by drawing, and it levels the playing field.  Additionally, it speeds up the drawing process so you don't lose instructional time.  I could seriously go on and on about the possibilities both sets present for our students, but the bottom line is, it scaffold and support your writers, and it will hold their attention in the process.  Engagement is half of the battle, and I know that I can't lose with a resource like this!
Save